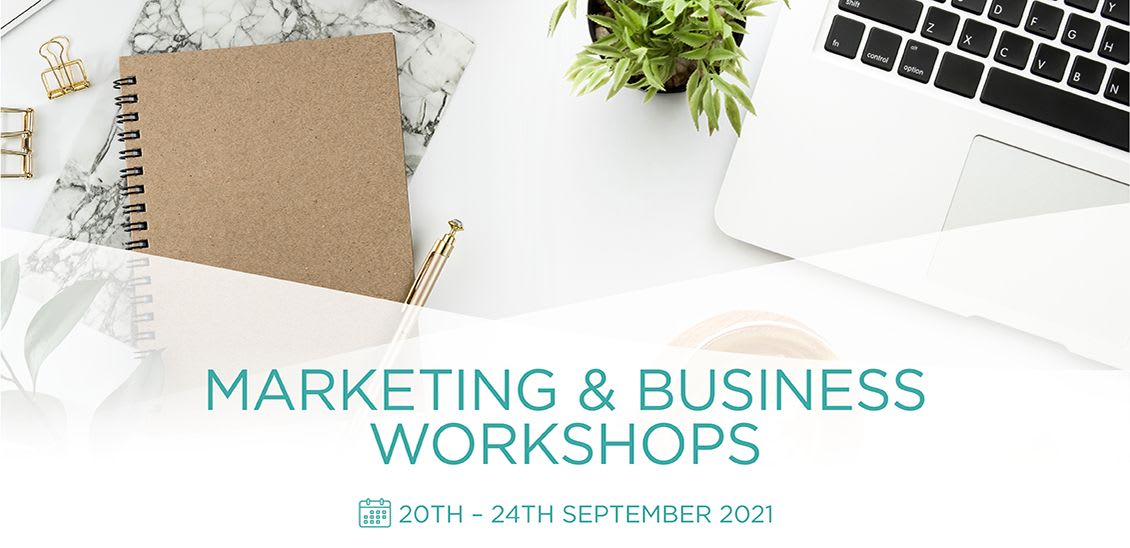 Speakers: Bev Alderson, Paul Stalker and James Goode
Join us this September for our biggest webinar series yet! We are collaborating with experts from the wellness, marketing and consultancy spaces to deliver a series of marketing and business workshops designed to help you, as a health practitioner, kick start your business, get your practice back on track after the pandemic or simply to expand your knowledge to help improve your services.
We know how difficult the past 18 months has been for you running your practice and perhaps seeing changes in client bookings or having to adapt to the online world at the drop of a hat. We are so excited to bring you this unique opportunity to ask all your burning questions to our panel of speakers to help you thrive in your practice, delve deeper into the world of marketing and explore the possibilities to take your practice to the next level.
Over the course of the week, you will have access to three detailed live webinars offering insight into the business world from the best in the industry. Our expert speakers will cover the following topics:
Reigniting your business – Bev Alderson
Monday, 20th September – 2pm-5pm
The last 18 months has seen many businesses ground to a halt, adapt or grow. It has also been for some an opportunity to reflect and to consider their business and life shape going forward. As life returns, it brings with it an opportunity to reset and to reignite your business.
This workshop aims to provide you with some concepts, insights, and practical tools to help you do just that.
To get clear on your vision and the strategy for your business.

To shape your day to support you in achieving both business and personal priorities and goals.

To identify your key clients for any initiative and play to your strengths in engaging with them.

Provide you with online and offline marketing ideas you can utilise to promote initiatives and services.
---
Google Ads - James Goode
Wednesday, 22nd September - 12pm - 2pm
This session will introduce the powerful customer acquisition platforms Google Ads.
We will examine how businesses can utilise Google Ads to help create, discover and sustain competitive advantages at different stages of their ventures

Many businesses can thrive utilising the power of Google Ads and can often be responsible for fuelling explosive growth for businesses. However, Google Ads are incredibly complex platforms that are sadly often ill-understood. Many businesses significantly underestimate the complexities, leading to expensive losses - either monetary or missing valuable opportunities through the 'opportunity cost'

We will look into specific strategies deployed by businesses at various stages and how the platform can help your business
Please pre-send any specific questions you have so James can address them all during the session (james@cambridgexyz.com)
---
Start and grow your business – Paul Stalker from Raise
Friday, 24th September - 10am - 4pm
Paul met Dr Rosy Daniel in 1999 when she mentored him to overcome Hodgkin's Lymphoma. Now, 21 years on, Paul works with her practitioners using a system borne out of his entrepreneurial learnings of the past 34 years. With his team at Raise, Paul has put thousands through this course and loves supporting practitioners like you.
What you'll discover on Start and Grow Your Practitioner's Business:
1. Finding your why
2. Discovering your heritage
3. Identifying your niche
4. Where are your clients and how do you reach them?
5. Your offering and getting it out there
6. Keep going!
A word from Paul Stalker
---

You can sign up for your FREE spot now, with the option to attend all sessions or pick and choose those relevant to your needs.
About the speakers:

Bev Alderson
Bev is a wellbeing professional (and regular blogger for Cytoplan!) who spent 18+ years performing management roles within the Finance and IT industries in both the UK and Australia.
Today through her business 'Practically Balanced' Bev works with individuals, groups and workplaces who are wanting to take a positive and proactive approach to wellbeing and in turn achieving greater results.
Drawing upon her business background and success in in creating her own business in initially Sydney, then Wiltshire and now Somerset, Bev has created this workshop to share insights, concepts, and practical tools to support practitioners in in achieving or enhancing their personal and business success.

Paul Stalker
Dubbed 'The Happiness Engineer' by a Channel 4 documentary, understanding what it takes to overcome fear and self-doubt has been at the root of Paul Stalker's personal transformation from school flunk, failed businessman and dying man, to healthy, wealthy entrepreneur, motivational speaker, business coach to FTSE 100 companies and personal mentor to corporate leaders, high performance sportspeople, disengaged children and life-serving prisoners.

James Goode
James Edward Goode is a University Of Cambridge graduate and also works for University of Cambridge in developing complex Google Ads strategies and Google Analytics inquisitions. James also is an invited speaker on Google strategy for the university's business school to masters students. Cambridge Xyz is an official Google-Partner badge agency and has also earnt the Google Partners specialist certificate.

You can sign up for your FREE spot now, with the option to attend all sessions or pick and choose those relevant to your needs.